Here is the cover to JUDGE OF AGES.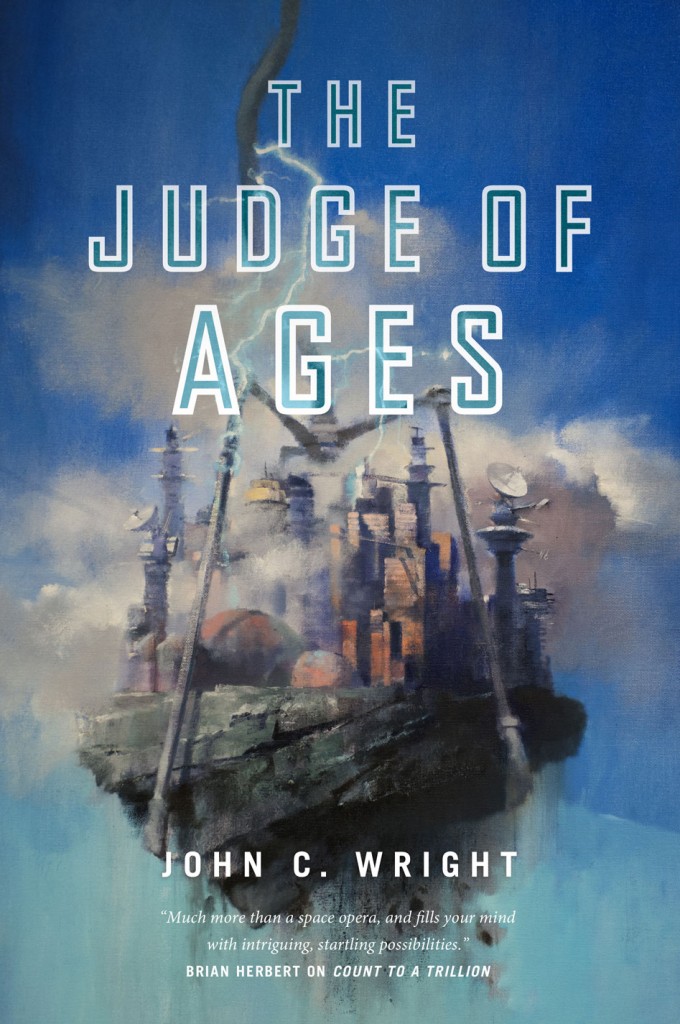 For those of you unfamiliar with the book, let me explain what is happening in the scene depicted on the cover.
I decided to write a novel so utterly unconventional, so startling in its originality, so remarkably new, that all the fans and critics of the world would instantaneously send me their robot duplicates of Julie Newmar named Rhoda or AF 709 or something.
In this novel, my hero Menelaus Montrose is a member of a short, fuzzy-footed race of placid stay-at-home squires named Texans who live in holes in the ground, but when the robotic wise man Pellucid explains to him that the Dark Lord Del Azarchel has lost the One McGuffin, it is up to Meany and his faithful companions, a Warlock named Micky, an exiled warlord named Daae, a dwarf named Soorm and an elf from the Greenwood named Oenoe, not to mention a giant named Treewhiskers or Bashan St Christopher or something, to stop the Dark Lord, even though the quest seems hopeless.
Meany and the Fellowship of the McGuffin sneak past the watchful malice of the Dark Tower, which in this scene is seen removing the buildings and factories of Raleigh, North Carolina.
At the end of the last episode, Meany and the Fellowship entered the Tombs of More Under Here, built by midgets or Knights Hospitalier or something in the old days, but now a haunt of monsters and goblins.  The party finds the tomb of Balin, son of Fundin, or at least finds some sort of coffins, which in this ridiculous book are equipped with racing wheels and machine guns.
They are then attacked by an ancient spirit of darkness known as the Ball Hog, or, wait, I think they are attacked by little blue bald guys and Dog Things, but that is almost the same as orcs, so we will let that pass.
Then at the bridge of Clumsy Dem, the Warlock, before plunging to his death at the hands of the dark fiend, turns and says, "Fly you fools!" to which Meany quips, "Well, if we could fly, we would have just gone strait to the Dark Land by air without entering this cave, eh, what?"
And then there is a fight scene that goes on for about twelve chapters, some dialog about philosophical issues no one cares about, and then an even huger fight scene, and then a breather, and a final fight scene. I think there is another fight scene in there somewhere.
And the man behind the curtain, the Judge of Ages, which all the people searching for him thought was some sort of wizard, or hero, or even a god, is just a good-natured chortling charlatan from Texas. Who shoots trespassers.
There! No other book in history is remotely like this! Send your Julie Newmar femmbots right away, outrageously pleased fans and critics!