Deluge as Earthday
Aronofsky's NOAH would be a fine movie for Earthday, or as a source for ideas for a Dungeons and Dragons campaign.
Aside from this, the movie was bad, and bad, and bad.
First, it was bad in my eyes for reasons which are simply a matter of my expectations and tastes, which I would not necessarily expect anyone else to share.
On that basis, I can only warn away men who share my particular tastes and quirks, which may be no one. I thought the look of the movie was colorless, unappealing, unmemorable. It was drab.
Second, it was bad as story, bad for reasons which even judges who like the movie for other reasons will agree are bad as story telling: bad on technical grounds.
On that basis, I can warn away anyone who likes a well-crafted story, or even a poorly-crafted story trying to tell a story. The story-telling sank during the second half of the film, and the plot snarled into a knot of nonsense. It was bad.
Third, it was bad as a Bible story, bad for reasons which only Christians, or Conservatives, or both would consider bad, but which tree-hugging misanthropic miscreants on the Left would like.
On that basis, I can warn away anyone who is Christian as a well as any non-Christians who do not bow the knee in pious reverence at the ugly Leftist altars of man-hating Gaea-worship. Vegetarians yearning for the destruction of mankind might like this movie; and also vehement anti-Christians and anti-Semites who want to see Bible stories mocked and deconstructed. The movie was a sneer against God and Man and everything good in life. I rarely find movies morally offensive; this movie was. It was evil.
Let us give the devil his due: I would not hate this movie so much if it had been entirely bad, bad through and through, bad like STARSHIP TROOPERS or PLAN NINE FROM OUTER SPACE. There were some good things in the first half of the film.
No, I will say that more strongly: there were some great, some wonderful moments in the first half of the film, things that made me want to doff my hat and salute the film maker.
But these good things, some of which were brilliant, were entirely undermined by the second half.
So some of you who read these words might like the film. For you, the good might outweigh the bad. I cannot condemn the film wholly.
But I can condemn it halfly, if that is a word:  If you go, please walk out of the theater once it starts raining.
Because the Deluge that follows is a flood of bad writing. Better yet, stuff popcorn in your ears, and ignore the dialog, once they get on the Ark. Maybe pull the popcorn out to hear the retelling of the Creation story by Noah to his kids.
Let us start, as all fair-minded reviews should start, with the good, and move on to the drab, the bad, and the evil.
Let me also defend the devil from unfair attacks, even attacks from critics as pure of heart as Michael the Archangel. There are criticisms I have heard from critics which are frankly unmerited.
You may have heard that there is no mention of God in this film. Not true. God is here called 'The Creator' throughout, and every character, antihero and villain alike, knows exactly who the Creator is. It is a logical and reasonable speculation that the Antediluvian world would have no controversy and no ambiguity about the existence of the Creator, since Creation was recent: the death and burial of Adam and Eve is still within living memory.
You may have heard that the glimpse seen of Adam and Eve in flashback, where they are seen clothed in white light, makes them look like space aliens. Personally, I thought this was a bold and wise bit of artistic license, since nude figures cannot be shown to an audience of fallen men without eliciting a reaction of lust, or of clinical objectivity. Light is an apt visual metaphor for purity. Also, our First Parents no doubt wore the glorified bodies which the faithful one day shall wear in the New Jerusalem, and glorified bodies possess clarity, they are clothed in light.
You may have heard that the Grigori, the Watchers, fallen angels trapped in awkward bodies of rock, are unbiblical or absurd additions. That criticism is unfounded and untrue. There is an eerie passage in Genesis which speaks of the Sons of God, creatures that might be demigods or giants or miscegenation between the children of Seth an the children of Cain. The Watchers are not an invention of the film maker, but from the Book of Enoch.
Myself, I admired the addition of the rock monsters. I thought that it showed an acute, even a scholarly, knowledge of the nuances of Genesis and of Apocryphal or rabbinical traditions on the part of the film maker, and a willingness to take the needed artistic license to make an epic film from the mute and sparse Biblical text.
I am not a purist when it comes to Bible epics. In Cecil B Demille's THE TEN COMMANDMENTS, he added much Hollywood hoopla and spectacle, historical inaccuracies, and subplots not even remotely found in the Bible or in the surrounding traditional stories or apocrypha. No one can blame a film maker for this: the Bible is so terse in its language, that wide artistic license must be granted the story teller trying to bring the bare events to life. BEN HUR is entirely invented material, as is any number of other Bible-and-Sandal epics we have seen through the years. So, likewise here, I do not consider the criticisms of the purists to be valid. None of my criticisms fall into this category.
To discuss the good, and move on to the drab, the bad, and the evil, I fully intend to spoil the plot as much as I can, hoping that readers will have their interest ruined by hearing too much about the film. It is that bad: I do not wish to extend to this putrid movie the normal courtesy of a reviewer toward a work of art or entertainment. This was neither.
So, no spoiler warnings from me! I give away the surprise ending! Mankind lives! Please read onward so the surprise ending will be ruined for you.
First, the pleasant part of this review: allow me to discuss the good things. You know there were good things in it, otherwise some reviewers who judgment is normally sound would not have praised it. Like the atrocious 'His Dark Materials' trilogy by Philip Pullman, the atheistic and God-hating theme of the film  is hidden at the beginning, and the beginning shows great artistic skill at first, even genius.
One good thing is the acting. While the actors were told to deliver their lines in grunts and monosyllables, interrupted by the occasional screech, and given utterly forgettable lines to say, the actors were able to take this sparse, bare-bones dialog and breathe convincing life into it.  Anthony Hopkins as Methuselah deserves special recognition here, but the whole cast, from Ray Winstone as Tubalcain, to Emma Watson as Ila, Jennifer Connelly as Naameh, Noah's wife, also did an excellent job with what little they were given to do.
Russel Crowe, alas, did such an excellent job of portraying Pearly Soames in WINTER'S TALE, a character full of tics and nuances and little realistic touches, that the comparison to the flat and frowning slablike Noah, who is given no emotions to emote aside from grim determination and dark scowls, was below that actor's normally stellar performance. He did turn in a good performance, considering the material he was given, but the character never came to life in this viewer's imagination.
Anthony Hopkins as Methuselah stole every scene he was in, and the film invested his role with air of an ancient magician or (oddly enough) with the air of a Biblical prophet.
Another good thing were those few moments when the movie maker used some unexpected but realistic detail to give weight and realism to the antediluvian world. I recall three of them.
There are characters not named in the Bible, such as Noah's wife Naamah, and events not described, which appear in non-canonical books and traditions from which this movie took inspiration. Again, as Philip Pullman did when he introduced Metatron in his 'Dark Materials' trilogy, the film maker here took details from several under-explored corners of Tradition.
Myself, I am something of a fan of such corners, so I happened to know before walking in to the film precisely who Tubalcain was, and Naamah. I had read the extrabiblical story that says Methuselah was sent from Adam's sickbed to plead with the Seraph barring the way back to Eden for a leaf from the Tree of Life to save the dying Adam. Turned away, but told that Adam would one day return to the heaven of the Creator, Methuselah returns and buries Adam. The traditional story is that God held off the Deluge until the peaceful death of Methuselah, so that there were no more just men found anywhere on the face of the Earth. I appreciated that the film maker included some of this ancient and traditional material.
Adding up the ages given in Genesis for the Antediluvians, it was in keeping with Biblical lore to portray Methuselah as living at the time of the onset of the Deluge.
The first good moment in the film was Methuselah breathing on Shem to cast him instantly into sleep. It was not done with any flashy special effects, but it effortlessly showed that the oldest man in the world commanded some power granted him by God.
Methuselah could grant Noah a shamanistic vision with his hallucinogenic tea, but not help him beyond that. That all was cleverly done, because it is difficult to have a prophet or a wizard or wise man on stage without having him solve all the plot's problems. The film overcame this difficulty in a plot twist that was sound story-telling: the ancient wizard arms the hero with what he needs to fight, but does not solve the problem nor fight the fight. In this case, Methuselah hands over the last seed of Eden, the one seed surviving of all the ancient and lost world out from which Adam was exiled.
The idea of the last seed of Eden is wonderful. I shall certainly steal it (the idea, not the seed) for one of my own stories.
There is an innate difficulty that dogs the steps of any story teller telling a Biblical story, or, indeed, those lesser copies and shadows of Bible stories we see in myths and fairy tales. The difficulty is that if God can solve all the problems in the plot, why has He not? Why does He not?
One answer to this question is to establish that any angels, fairy-godmothers or wise wizards aiding the hero have a limit on their powers. Obviously this cannot bind a character who is omnipotent. So a second answer, and much more difficult for the storyteller to weave into his tale, is to establish that the all-powerful Creator has done everything needed to solve the problem, provided the hero also does his part, keeps faith, and obeys his instructions. The cleverness is needed by the writer to have unexpected and indeed miraculous acts intrude into the plotline in ways that seem like divine intervention, a wonder, a marvel — but marvels which still leave the hero free to fail.
The hero has to be told to expect a miracle, but then the hero, and the audience, has to be utterly surprised when it happens. More to the point, the miracle can help but cannot solve the problem or remove the results of the character's freely willed decisions. This is hard to do and only two movies I have ever seen have done it correctly: the aforementioned WINTER'S TALE and the old classic IT'S A WONDERFUL LIFE.
This movie almost carried the trick off. Aronofsky gets points in my book for trying.
A sudden fountain of water and the trees of Eden spring up about the wasteland of Noah's camp, all springing from the last seed of Eden, was exactly just such a wonder, and it occurred at just the right point in the plot to achieve the effect of lasting wonder.
Noah was being menaced by Watchers (who, naturally enough, blame mankind for the fall of the world) who did not believe that Noah was sent by the Creator to save the remnant of the innocent from the evils of a world so soon to be be destroyed. As commonly happens with prophets, they did not want to hear the message, but to kill him. The seed he had planted earlier chose that moment to sprout, and trees soared aloft like green skyrockets.
The sudden growth of the trees does not physically halt the rock monsters, but now they have undeniable evidence that the Creator favors Noah and did indeed send him. The fallen angels use their great strength to hew lumber and help build the Ark — so the movie maker cleverly does not show us Noah building so huge a structure by himself.
It was a great scene. If the rest of the film had been like this, it would be among my favorite films.
Another good thing in the film was one other viewers might find puzzling or even problematical, which is why the shed snakeskin of the serpent who first tempted Eve is kept as a relic of the Patriarchs, and used to pass the blessing from father to son down the generations? I suggest the symbolism is clear and powerful, and shows an unexpected theological subtlety on the part of the filmmaker.
All things were created good at the beginning, even Lucifer, even the serpent. The serpent chooses sin rather than obedience, and sheds his original unstained goodness. The serpent is shown on screen in a flashback slithering out of his white old skin to reveal the new black skin of sin beneath. The papery and withered snakeskin is a symbol and a relic of the lost innocence of Eden.
What other holy things, what other relics, could the Antediluvians have, save some few traces saved from the exile from Eden?
The third thing was the fall of the Watchers. Not out of rebellion, as the angels of Hell, did these angels fall, but out of compassion for man. They instructed man in all arts and magic they could, to aid the Sons of Adam laboring under the Curse of laboring for their daily bread.
In the film, this is beautifully and memorably depicted as a shower of meteors. When the disobedient beings of light strike the Earth, the Earth for whom they abandoned the joys of heaven becomes, with terrifying Old Testament irony, their living prisons, for they are coated in a material shell of earth and mud that hardens, giving them a crust as ugly and ungainly as that of Ben Grim from the Fantastic Four. No more flight for them.
In the climactic battlescene between Noah and Tubalcain, the final heir of Cain, the rock-cursed and rock-crusted fallen angels wade into the fray like Ents or Giants, shattering dozens of foes at each blow.
Tubalcain, like Methuselah, is indeed a Biblical character, named as the first artificer of bronze and brass, which is indeed how he is portrayed here. In the film his men are armed in dull gray scale and carry lances, knives and warhammers of metal, and some sort of fire-arm like an harquebus or blunderbuss.
Tubalcain, in a magnificent show of courage, runs up the chest of the giant Watcher and stabs it through its rocky integument. The wound is mortal. The giant falls, and, staring up into the heavens from which the wrath of God in the form of rain is pouring, whispers a prayer, asking for forgiveness.
The forgiveness is instantly granted, and the creature of fire, huge as a Jinn released from a bottle, explodes from his heavy husk, and, rejoicing, the freed spirit soars to heaven in a fountain of glorious light, while Sons of Cain are flung like burning puppets through the air.
We then see the angelic being in space, still soaring upward, and below the world is covered with one vast storm system from pole to pole, with all the swirled eyes of countless hurricanes and tornadoes smothering all glimpse of land and sea.
Do you see why I scoff at the reviewers who say God is not in this film? God is central.
To put onstage such a vivid and spectacular story-event as the fallen angels being forgiven the minute, nay, the very second they first ask, is powerfully moving. Had the movie not betrayed this theme later, it would have been a bad, but forgivable, movie, just because of this scene.
Whether you think the story of Noah is history, myth, or even nonsense, I submit that the intellectual exercise of trying to imagine the strange world before the Deluge is no different from the speculations of science fiction and fantasy writers imagining worlds that may someday exist or may never exist, but which differ from our own. One thing I admired deeply about this film is that the film maker engaged in such speculations. He was trying to bring to life in our imaginations a world not like our own.
Consider, dear reader, that whether you believe in a literal Flood of Noah or not, the picture of the world before the Flood is one to provoke the speculative imagination. What would it be like to live in a world newly curse by God, where expulsion from the Garden of Eden happened but recently? What would it be like to live in a world where the lifespan of Man could reach nine hundred years or more? The permission given by God to allow man to eat meat is expressly stated in the Noah story, leading some scholars to speculate that antediluvian man was entirely vegetarian. And there were giants in the Earth in those days.
It should also provoke the speculative theologian. What was antediluvian man's relationship to God, before the advent of Christ, before the Law of Moses, before the promises made to Abraham? This movie attempted (I believe it was a dishonest attempt, but I might be wrong on that point) to imagine God as He might appear before any covenant with the Sons of Adam was attempted. Aside from His promise that no man would slay Cain, there is no record in the Bible that God had spoken to Man since the exile of Eden, until He speaks to Noah.
What would a Silent God be like? There are many psalms or passages in the Bible which lament the silence of God, not the least of which is the cry of despair by the Savior on the cross itself. To introduce this as a theme is not unchristian, nor inappropriate in a film concerning the most violent act of divine wrath depicted in the Old Testament.
One theme in the movie I liked was the moral conflict of Noah trying to decide whether to have faith in the vision he received from the Creator, and to have faith in the justice of a Creator who condemns all but a remnant of His fallen creation to death by water. The Creator did not answer questions shouted at the sky, neither when Noah did it, nor when Tubalcain did it.
So much for the good in the film. On to the drab, the bad, and the evil.
Fans of dull-colored sepia-toned films with curt, dull-colored monotonous dialog might like the film, but do not expect any lavish Biblical epic, or to see anything fair or fine. As I said above, this is merely a personal preference, but I prefer epics to have visions of splendor.
There was no trace of hue, no trace of humor, no trace of lightness nor light anywhere in this film.
I would never walk into a movie about Atlantis before it sank, or Pompeii before it burned, and expect to see nothing but rocky landscapes, one after another after another, dull and gray and barren.
The movie said that the Sons of Cain had built a worldwide civilization spanning all the continents, using ancient technologies taught by fallen angels and long since lost — what a wonderful, what a breathtaking conception!
That was what the movie said. So I was expecting the cities of the Sons of Cain to look lavish, huge, dark, and demon-haunted — something like this: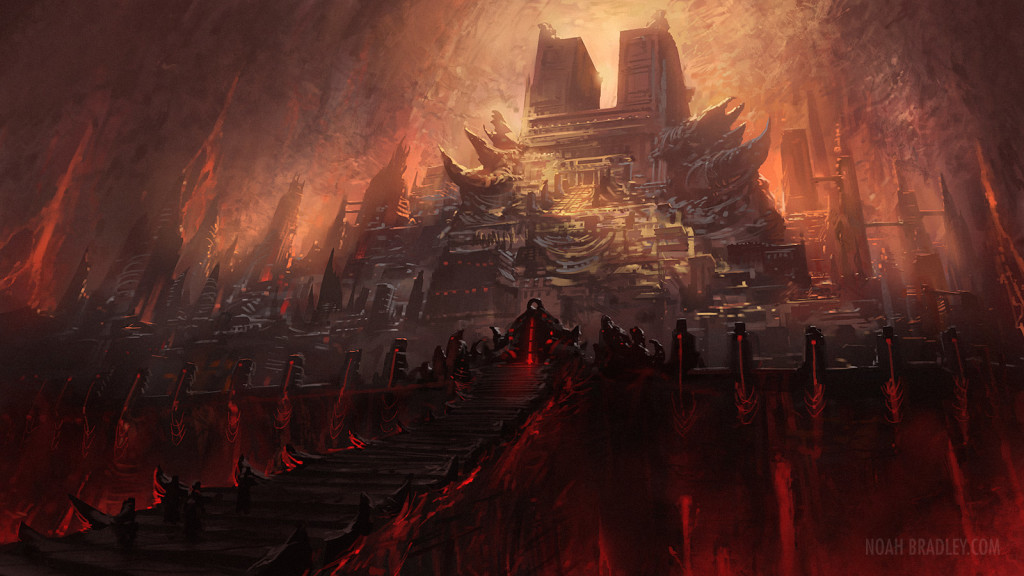 Or this
I was expecting, in other words, the lavish spectacle of a world so sunk into idolatry, harlotry, warfare and murder, that it would dazzle the eye.
What I got was this:
And this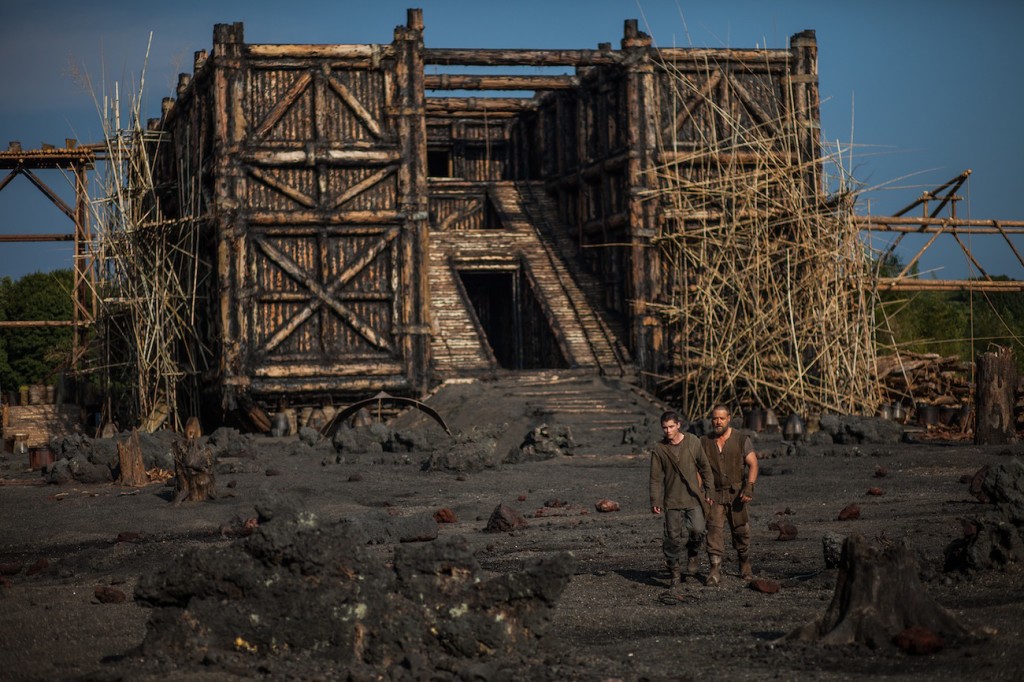 Note the copious mud. Please notice how dark, dull, gritty, bland and, well, forgettable the barren land and the boxlike Ark happen to be.
In sum, the narration said this was a world that was supposed to be overpopulated and covered in ancient and malignant cities. The movie showed us one drab and dun-colored wasteland after another. Not a single city, not a single army, not a statue nor an idol nor even a brightly colored striped tent ever was shown on the screen. Tubalcain should have looked like Xerxes from the movie 300, or like Pharaoh from THE TEN COMMANDMENTS. Instead he looked sort of like Riff from WEST SIDE STORY, and his 'army' consisted of a gang of thugs about as numerous as the Sharks or the Jets, but not as good at dancing.
It was the smallness of the movie that I disliked. Instead of the world being destroyed before our eyes, we see one small mob of bad guys and Noah's family, which is even smaller than in the Bible.
(Japheth and Ham have no wives in this version, so only Asia will be populated, not Europe nor Africa.)
There was no spectacle to this movie, aside from the occasional flashback where Methuselah destroys an army with a flaming sword, or the Watchers fall to Earth. The sets did not look like anything.
The same complaint applies to the costumes. Usually costume dramas have, you know, costumes. Like this: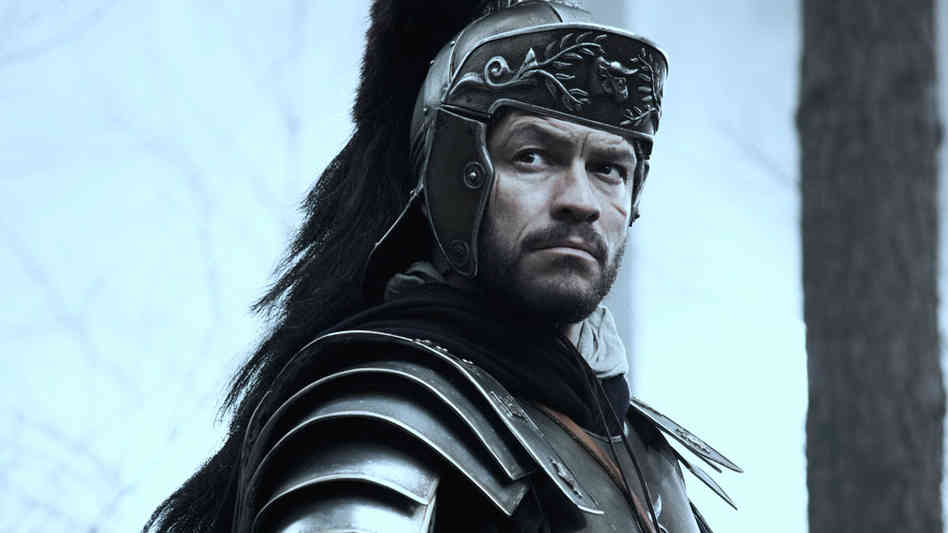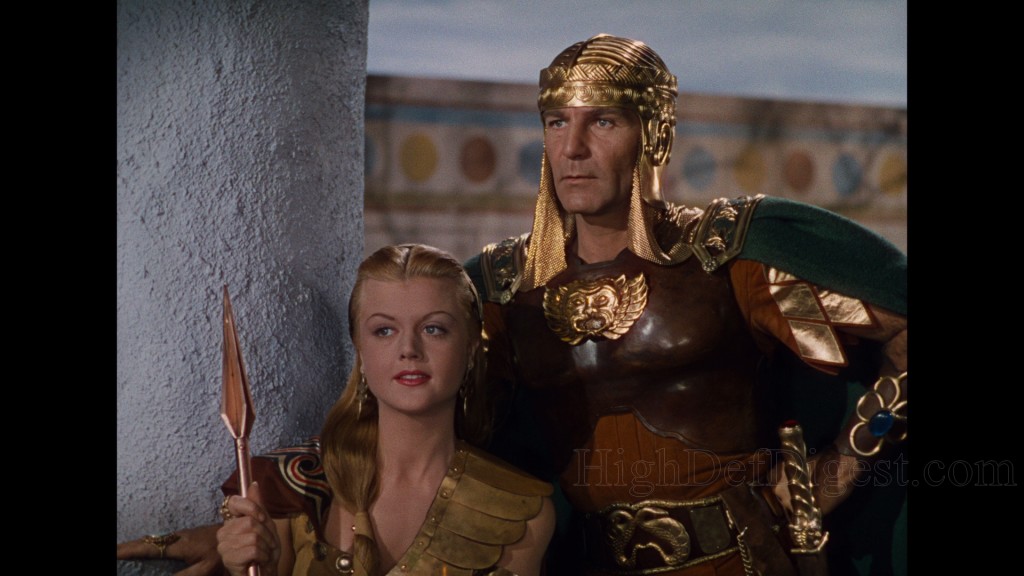 What is the first thing you notice about the garb and gear? They do not dress like us.
Now look at this: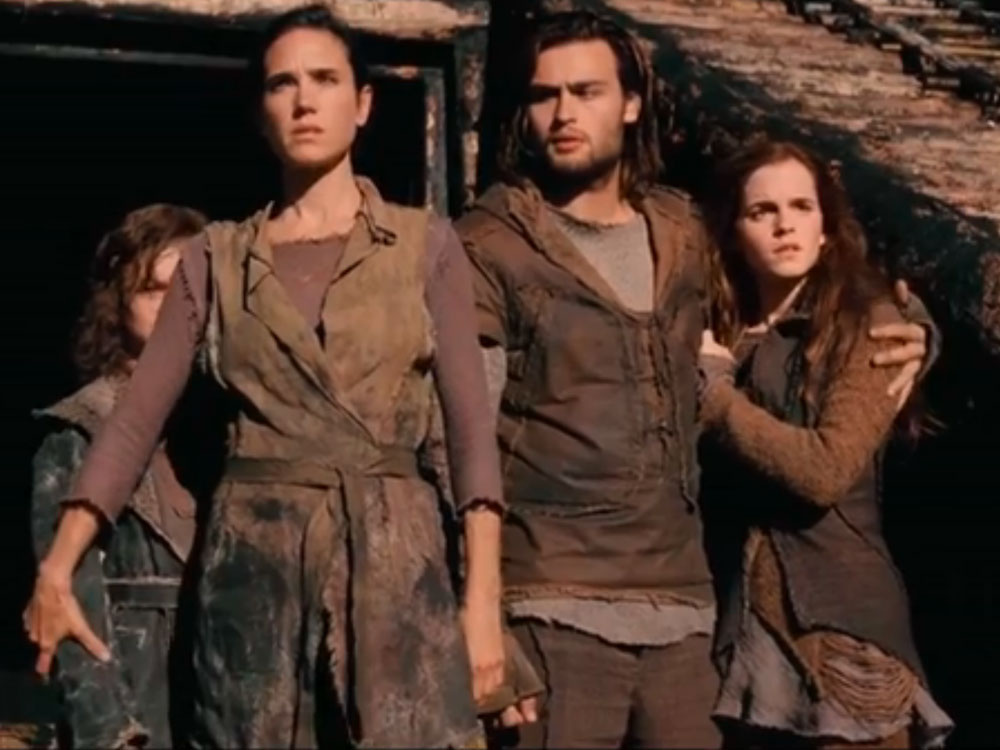 What is the first thing you notice about the garb and gear? They dress very much like us.
The first moment when Noah the Patriarch came onstage, I thought he was wearing jeans and a hooded sweatshirt. Only looking closely do you see that they are wearing what might be homespun trousers and tunics. They look vaguely like frontiersmen, but without any particular cut or coloration to distinguish them. The garb is as generic as possible, and as dull as possible. Unlike every race of man since the dawn of time, these characters in this film have no ornaments at all, not a ring, not a spot of paint, not a feather.
What about the spectacle of fight scenes? Compare this: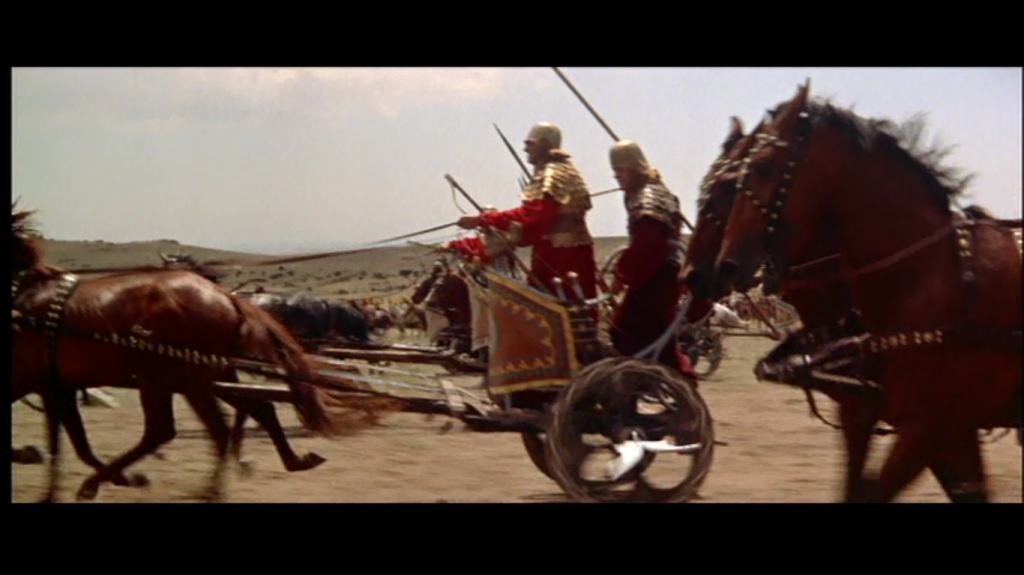 With this:
Nor horses, no chariots, no swords. Looks like they are wearing raincoats.
Overall, the movie looked as drab and boring as possible.
Emotionally, the movie was also drab. Noah saves all the animals, but he does not pet nor feed a single one, not that we see. The parade of animals forms an impressive vision as they are gathered into the Ark, but there is no close-ups of them, no emotion. Perhaps Noah loves his wife and family, but we do not see it. Perhaps he reveres and loves the Creator, but we do not see it. We see his obedience.
Now, this critique about the look of the film is a matter of personal taste. Perhaps the director wanted to make the landscape, sets, and costume as dull and generic as possible, so that the Antediluvian world would seem to us to be like our world at this year, or at any year. Perhaps the audience did not want to see fantasy and spectacle. Or perhaps the modern Liberal mind is naturally drawn to think ugly things are real.
So much for the drab. On to the bad.
No doubt you have been told your whole life that beauty is in the eye of the beholder. This is untrue. Part of beauty is in the beholder's eye, that part that speaks to you personally. Part is seen no matter who looks, provided he looks honestly. That is the craftsmanship, which any man can judge, whether the tale is to his taste or not. Those who say and repeat that beauty is in the eye of the beholder no doubt wish to dismiss criticisms of the second type, factual criticisms, for criticisms of the first type, matters of taste.
I emphasize this distinction here because I judge this movie to be bad from a standpoint of craftsmanship, that is, the writer did not use the art of how to put a story together correctly. The plot is a tangled and confused mess where it should have been simple and clear. The theme should have been consistent throughout.
As a matter of story telling, the story should have been about something. Preferably, in a Bible epic, the theme of man's relationship to God should have come up, and handled in a coherent way, or had a point. That theme did indeed come up, but it was not handled in any coherent way.
The whole point of this (or, really, any) version of the story of Noah is that the Antediluvians gave themselves over to evil, and were wiped out to the last man, with Noah's family alone being spared. There are only two possible interpretations of this story.
The first is that God is just, and that therefore the Antediluvians to a man were not only stained with guilt, not one of them asked for forgiveness; the second is that God is an insanely sadistic mass-murdering tyrant, who slays the innocent along with the guilty.
Hence there is only one of two choices for a theme, given the subject matter: one is to show God as filled with mercy and justice, despite the world-destroying brutality of the punishment; the second is to show is to show God to be an evil sadist, despite the claim that He is just.
No matter which theme is chosen, the character arc must follow it. In order for the plot to have plot-tension, the character of Noah must end up elsewhere from where he starts.
Naturally, if the writer decided to write the  first theme, the Biblical theme, if the story is to have the ending in the Bible, where the human race lives through Noah and his family, must start from doubts and end in trust.
Contrariwise, the character arc of the second theme, let us call it 'The Philip Pullman theme' must be that the doubt about theodicy would have to be resolved not in favor of God. The hero would have to start in trusting the evil Demiurge called God, and end up, his eyes opened, sadder but wiser, and realizing that the evil Demiurge is a mass-murdering sadist, not divine at all.
I mention this again to emphasize that I am not here criticizing the film maker's choice of what theme to take, only to say that once the filmmaker makes the choice, the logic of storytelling requires him, if he is not to cheat his audience, to carry through with the required plot logic and character arc. Here it simply did not happen.
When telling the story of a world destroyed by God, the writer must decide the one theme or the other: either God is right and the world is wrong, or the world is right and God is wrong. You cannot have both. You cannot have a compromise. They cannot be both half-right.
In the first case, God is just and Noah is His chosen savior of the righteous remnant of man, the only surviving Sons of Seth. In the second case, God is unjust, and Noah is no better or worse than the Sons of Cain.
In the first case, if Noah is to be a character different from the Sons of Cain, he must be shown to be holier, nobler, or better in some way. If he is not shown in this way, it is an error in the art of story telling.
Whichever theme the writer decides, he must decide why mankind is being wiped out.  This is central thing the movie fumbled, and badly. In the Bible, the matter is stated with admirable clarity :
And God saw that the wickedness of man was great in the earth, and that every imagination of the thoughts of his heart was only evil continually.
Without this being put onstage, and without this being presented convincingly to the audience, then God's ways are not justified, not to Noah, and not to the audience.
Ah, but the filmmaker did condemn mankind for something. It was just not for man's wickedness.
In the first scene, Noah's son, Ham, plucks a flower smaller than his fingernail because is it pretty. Noah upbraids him, saying that everything in nature has its place, and we can only take what we need.
What was the point of that? Ham was not pulling the wings off of flies just to see them die, nor was he hunting elephants and taking only the tusks and letting the rest of the beast go to waste. He plucked a flower so tiny and pale as to be almost invisible. I cannot imagine the film maker expect us to take Noah seriously at this point. Even the most extreme of Buddhist ascetics do not carry the principle of respect for all life to this extreme, nor do the most extreme of Greenpeace environmentalists.
Noah then comes across three men hunting a scaly looking dog critter, apparently one of the races the Creator did not see fit to preserve. A fight ensues, and Noah, who will not pluck a flower nor step on a blade of grass, uses his elite Patriarch ninja-fu skills on the wights, and kills the men in short order.
He then holds a solemn funeral for the dog, burning it on a pyre. For the dog.
The boy asks in woebegone wonder why the hunters are hunting. Noah explains that they eat meat. The boy has never heard of such a thing before. Eat meat? Why would anyone do such a lunatic, crazed, outrageous thing?! Clearly the Creator meant Mankind only to eat leaves and berries, because we have no canine teeth, and our stomachs cannot digest meat, right? Noah merely grunts (nearly all the dialog is in grunts) and says, "They think it makes them stronger."
Got that? The Sons of Cain eat meat not because it has any ability to feed them when they are hungry, but because of an inexplicable cult like belief, similar to that of cannibals, that the strength of the animal will somehow be drawn into their body.
A drop of rain comes from the clear blue sky and the dead flower is brought back to life. I assume this was meant to be a symbol of the salvation to come, but, if so, it was a bit of an odd symbol. Whether this actually happened or Noah hallucinated it was not clear.
Noah returns to his tent and tells Naamah in a worried tone that Ham seemed a little too curious about hunting and eating. (Noah does not offer to stab the innocent child to death at this time. That comes later.)
Right before killing the last of the murderous huntsmen, Noah hisses that he wants justice. He sounded a bit like Chris Nolan's Batman at this point.
To emphasize the similarity to Batman, there is a flashback were we see Tubalcain murdering Lamech, Noah's father. At this point the Sons of Cain vaunt that they have wiped out the last of the Sons of Seth, and Noah then lives, I presume (it is not clear) hiding in the shadows and living in the wilderness. Where the wife comes from is not clear. In the Bible, she is Tubalcain's sister.
Why Noah lives in a tent is unclear. He has no flocks, no cattle, not even a scaly dog for a pet. He does not sow, neither does he reap. At one point we see his wife grinding grain in a quern, or perhaps rolling something beneath a rolling pin, but I cannot figure out what a nomad vegetarian living in a barren wasteland would eat, or what he does with his time besides build Arks.
That is another technical error with the story-telling. Not just this, but nothing, nothing at all, has any solidity, any background, any reason for being in one spot as opposed to another. Why does Noah live in a tent rather than a cave? Why does Methuselah live in a cave rather than a tent?
Noah sees in a dream that the soil is soaked in blood, and that the world is soon to drown.
He goes to the one remaining green mountain on the planet, to the cave where Methuselah lives, and inquires of him. Methuselah slips him a Mickey Finn, Noah has a vision of the Ark and decides to build one. Methuselah gives him the last seed from Eden, or perhaps it is from a Truffula tree. It grows up into the forest aforementioned. Why Noah does not use the trees on Methuselah's mountain is unknown. Or, for that matter, why Methuselah does not live with his grandson in their tents, or why he is not invited to accompany his own family on the Ark.
On the way to the mountain, Noah is mugged by the Watchers, who do not believe him to be sent by the Creator. However, one named Og believes him and aids him, in one of the few touching or arresting scenes in the movie. However, in hindsight, the scene is flat, because Noah displays none of the charisma or eloquence or passion needed to persuade anyone of anything. He simply says in one monotone-level line that the Creator sent him, and the rock monsters reply in their gravelly voice that they don't believe him. Except the one that does.
The Watchers agree to help Noah. Years pass. I take a nap in my chair, and begin looking at other members of the audience. The guy across the aisle is playing with his cellphone, despite the warnings before the movie started that this was not allowed.
The animals follow the trees and the rivers back to the magical spring which flows from the last seed of Eden, and enter the Ark, and the Noachians stun them with sleep incense, and they sleep. I think some of the incense left the screen and filtered into the audience.
Tubalcain and his unruly mob show up. (I admit I am so tired of repeating these meaningless and boring events, that my eyes are drifting shut as I type, but I do not know how else to prove that the events do not follow one from another as they should.) In any case, Tubalcain shouts that the Ark will be his, and that Noah should not defy him, as Noah is alone. Noah announces solemnly that he is not alone.
In the television commercial, no doubt you thought as I did that Noah meant, as Elijah did, that the invisible power of God was on his side. Nope. He only meant the rock monsters were waiting in ambush.
Tubalcain and his men retreat and set up camp, having brought their wives and daughters along on the campaign, or maybe they were refugees from the destroyed and dead cities, or something. That also was not clear.
Everyone is starving, apparently, because man has overpopulated and destroyed the earth through strip mining. Though if everyone is starving, all the Creator had to do was have fruit trees rather than gopherwood trees leap up of the last seed from Eden, and have Noah eat dates and figs while watching the Sons of Cain die of hunger.
At this point, Ham is a grown man, and Shem has a wife named Ila who is barren from an old war wound, and Ham is jealous and wants a wife. Noah goes into the camp of the Sons of Cain hunting for mates. The director shows us all their wickedness and evil, basically by having the camera pan across a group of dark sepia-hued figures who are yelling at each other, while a girl screams in the middle distance. It was impossible for me to tell what the screaming was about. Then a crowd pushes down a fence, and seizes a young animal of some sort, maybe a goat, and the crowd tears the goat to bits and eats the flesh raw.
At this point Noah looks down, and sees the blood from the goat. It stains his feet. This was the scene he saw in his vision.
This is the very moment when the film goes completely off the rails. It lumbers onward for a few more scenes, however, by sheer force of momentum, before toppling from the trestle and careening into the gulfs of sheer awesome, bottomless stupidity so far below.
I hope you understand the piercing, penetrating, intensely bad craftsmanship of this scene. At this point in the story, what was required was for the audience to be shown that all the Children of Cain were so vile and wicked in their behavior that the judgment of the Deluge, if Draconian, was at least understandable. The camp should have shown acts of mayhem and torment and harlotry and sodomy and cannibalism and drunkenness and idolatry and brutality and violence, or at least, usury. Unfortunately, to a modern audience, half those things are Constitutionally-protected rights.
Again, I must emphasize how badly this scene was handled. When Noah sees the earth soaked in blood in  vision, it is a sign from God Almighty that the Earth is soaked in blood. One assumes this is human blood, a sign of wrath and war and murder. Nope. It is only a sign of an unsanitary butcher shop in action. It is goat blood, or whatever the critter was.
Noah departs the camp. He is so disgusted that he goes home and tells Ham that God has sent all that is required.
At first I thought this meant, as in keeping with the theme, that Ham must trust God to find him a wife by some miracle who is not of the diseased and evil lineage of Cain — a miracle because no one aside from the Children of Cain are alive on the whole earth, except for Noah.
Logically, the plot then required this miracle to find or provide the wives of Ham and Japheth, or else the world will not be repopulated after the flood, and mankind not saved, which is Noah's mission.
But we discover in the next scene that Noah meant the opposite. He was not telling Ham to trust in the provision and providence of God; he was telling Ham to resign himself to living hereafter like a monk and dying childless.
But what about saving mankind? Ah, but suddenly and for no reason the divine mission assigned by the Creator has changed. Noah decides that instead of saving mankind, God really means Noah to destroy mankind, including Noah's whole family. And the Ark? The point of the Ark was meant to save the innocent. Who are the innocent? Animals, birds, snakes, bugs. Why? Because they alone live as they did in Eden.
So instead of any act which was forbidden to men, eating meat is the horror that is so bad that Noah decides on the spot that his two unmarried sons must live in celibacy for life, and die without heirs, and all the human race die with them. The bloodsoaked earth is because of the unwillingness of man to practice vegetarianism.
Then it starts raining.
Ham, understandably irked that he will live and die without female companionship and without children, sneaks into the Cainite camp, falls into a mass grave, and finds there a girl named Na'el, feeds her, falls in love, and brings her back through the forest toward Noah's now-filled and ready Ark. Just at that moment, Na'el steps into a bear trap, her leg is caught, and a crowd of men run up and tramples her to death. Noah is there, makes no move to save the girl, and drags Ham away. We see Na'el get stampeded to death by the mob.
Just in terms of the craftsmanship of story telling, what is wrong with that scene? Anyone? Bueller? Anyone? If you raised your hand and said it was a stupid as a stump, you'd be right.
As a matter of craftsmanship, the plot has established that one of the external obstacles to be overcome by Noah before he can launch the Ark is to find wives for Ham and Japheth. They either must be Daughters of Cain, or procured through some unexpected miracle. So when Noah returns from the camp without brides, the only logical solution is for there to be a miracle. I remember waiting and wondering for this to eventuate, even to the point when the rains start, and not seeing how the film maker planned to get out of the auctorial corner into which the film was painted. I waited and waited for something clever. Nothing clever ever arrived. (The eventual solution, which is not clever, is that the two wives for Japheth are in the womb of Ila, ergo not yet born, but he gets to marry his twin nieces, and Ham gets no wife, because he is named after pig meat, which is an unclean animal, and meat is murder).
In terms of storytelling, what the Na'el trampling scene does is change the theme, so that Noah is no longer the righteous man saved out of all the wicked Earth, he is now just a creep who let a girl die. Also, stepping in a bear trap is stupid. We are cheated both of the heroism of a rescue — this, in the middle of a movie about rescuing animals and people from the great flood — and the poignant sorrow of a tragic death. There is no goodbye, just a bear trap snapping her leg, and a crowd trampling her to pieces.
More rain, and the fountains of the earth are also opened. So, another point for Biblical accuracy.
There is a fight scene. Tubalcain sneaks aboard the Ark and lives. Everyone else on Earth dies.
Noah now sits and sulks in the Ark.
He gathers his family and announces that when he and his wife die, Shem and the barren Ila will bury them, and when Shem and Ila die, Ham buries them, and when Ham dies, Japheth buries him, and wanders the earth, the last man, and dies with no one to bury him.
(I am not sure why he thinks they will last so long. It is not clear how the vegetarians survive the 40 plus 150 days as vegetarians on a boat where there is no stored grain or raisins in evidence.)
Ah, but in an earlier scene, we saw Ila get cured miraculously by Methuselah, and can have children now.
Now, by the rules of craftsmanship as mentioned above, this has to be the miracle which solves the problem raised by Ham and Japheth having no brides. Ila is going to have twins, and when they grow up, Ham and Japheth can marry their own nieces. There is an exception to incest rules when only one family is alive on Earth. But, again, just as a matter of craftsmanship, it does not seem to make up for the loss of Ham's girlfriend of five minutes to the beartrap. The miracle cure of Ila does not undo Noah's unthinkable cruelty and callousness toward his son and the unsaved Na'el. Unlike the other Children of Cain, she was asking for help. She was willing to repent.  So Ila's miracle does not fit the needs of the plot.
God does not wait in this version while Methuselah dies peacefully, no, Methuselah is seen rooting through the grass looking for one last berry to eat, and he finds one just before the tidal wave hits, and dies with a big stupid senile grin on his face. (I seem to recall that God in Phillip Pullman also dies with a big stupid grin on his face, or a least a look of relief.) So apparently Methuselah was also too evil to live. Which, again, invalidates theme of the plot if the movie is supposed to be about a good God who commands a faithful man who saves his innocent family from a world-deluge.
But if the movie was supposed to be about a bad God who wants everything destroyed out of malice, and orders his faithful dupe to kill everyone, and the faithful dupe fails, then the plot logic would have required for Noah to be aware of the injustice of the death of Methuselah, and for this to be one of a growing number of reasons why the faithful dupe begins to suspect he's been had, leading up to a culmination that God is an evil Demiurge. But that never happens either. So whichever of the two sole possible interpretations of the movie is correct, the scene of Methuselah eating a berry while being hit by a tidal wave makes no sense.
Because in this version of the movie, God kills Methuselah with a bucket of water.
Where was I? Oh, yes, just as Noah is announcing his mass euthanasia plan, based wholly and solely on the fact that people eat meat and Noah was grossed out when he stepped in a goaty blood puddle, Ila gets pregnant.
Now the movie loses whatever it had left of its mind, because instead of rejoicing at the birth, which every single solitary Biblical character from Eve to Sarah to Rebecca to Rachel to Hazelelponi to Hannah to Elizabeth to Mary regards as as a blessing, Noah now regards the birth as a curse. (And I will award 40 extra points for anyone who knows who Hazelelponi is).
Noah announces that he is going to kill the child when she is born, if she is a girl. I assume this to prevent the girl from growing up and marrying Ham and filling all of Africa. How Japheth is going to fill up all of Europe with his posterity is also a mystery at this point.
Noah never mentions how is going to prevent Shem from having another child later on. Maybe castration?
But notice another inexplicable change, as if we just walked from one movie to another, or as if the film fired one writer and hired his opposite from the antimatter dimension of Qward. A just and obedient Godfearing man who was willing to accept the inevitable fate of dying without grandchildren because his only daughter in law is barren is passively accepting something he cannot change, which he takes to be God's will. A maniac who ignores the counsel of his wife and sons, provokes them (with perfectly justifiable reason) to parricide, because he thinks God is telling him to kill his own newborn grandchildren is a different character with a different motivation.
The rain stops the instant the news of the birth is made known. Ila announces that this is a sign that the Creator smiles on the unborn babies. Noah grunts (all the dialog is grunts) that the Creator smiles on no one, and announces he intends to commit infanticide. Again, no matter which theory of the movie you believe, the scene makes no sense.
Why is a man who followed signs from God suddenly ignoring what is arguably a sign from God? That would indicate that he has decided to be disobedient, and to kill the family the Creator decided to spare. Which again is senseless from the point of view of constructing a story, since the point of the story up to now was that Noah was obedient enough that he built the Ark despite all obstacles — now he decides to disobey God's will? But then his motive to wanting the babies dead is his perfect obedience to God's will. But if the rain stopping just at that moment was a coincidence that Ila misinterprets, why is the scene in the story? Why put in false miracles in a story where the audience just saw a miracle cure, a miracle forest growth, a miracle gathering of all the animals, and a miracle flood?
So, meanwhile, Tubalcain is in the hold of the ship, being nursed back to health by Ham, and Tubalcain eats one of the only surviving pair of some lizard we no longer have on earth. Ham gasps, "There is only two of them!" Tubalcain smiles and replies, "There is only one of me."
Then Tubalcain recites what his fathers told him of the Creator, who said that man was made in the image of God, and was given dominion over the earth, and commanded to subdue it.
Because villains in Hollywood movies quote scripture. It proves they are evil.
I hate to keep harping on this, but even if you hate Christians and Jews and all our stories and lore, even if this were some Bronze Age version of WHEN WORLDS COLLIDE, and if Noah was named some other name, such as Ducaleon or Ut-Napishtim, or Ziusudra or Bergelmir or Atrahasis or anyone — even if the story were supposed to be a cross between THE SHINING and EVENT HORIZON where the Captain goes mad and starts hunting down his family, surely it would have been necessary and proper story telling to establish the plot point that the Creator wants evil Noah to build the Ark and die with all evil family right at the beginning of the story, and not trick us into thinking he was a good man trying to save mankind?
This is a technical error in the craft of writing, because Noah's conflict is now between his desire to kill his family, which is what he believes God commanded him to do, and his natural human emotion to love and protect his family. Except that there is no conflict.
There is no tension. In order to create plot and tension, you need two things: something the protagonist desires, and some obstacle that prevents him from getting what he wants. In this case, the desire to kill your own family in order to make the world safe for bears and owls and stinkbugs is not a normal human emotion, and no one in the audience, aside from psychopaths, can feel the temptation.
And in this case, the only real obstacle to Noah's desire is Tubalcain, who wants to kill Noah, seize control of the Ark, and take the two remaining women alive on Earth as his concubines.
So during the knife brawl with Noah, you and I and all the human beings should logically be rooting for Tubalcain, because if he lives, and fathers more humans on Ila and Naamah, then our ancestors will be born, but if Noah lives, then we will never exist. (Beside, what meat-eating son of Cain would not want to take Jennifer Connolley and Emma Watson as his concubines?)
I assume the filmmaker intended there to be some form of internal tension, as Noah struggles between his perfectly normal and God-fearing desire to obliterate all human life (he did step into a puddle of goat blood, after all!) and his unholy and unhealthy desire to love and protect his wee little baby granddaughters.
Myself, just from a technical point of view as a writer, I think instead of having Noah step into a goat puddle as the thing that sets him off, the Batman should have dropped him into a pit of acid, bleaching his skin white and turning his hair green, while a surgeon fumbles the delicate surgery on his cheek-muscles, so that he cannot stop smiling. That would have made the character arc more realistic.
Noah explains his thinking, if it can be called that. He says that all men have original sin, all are sons of Adam, and ergo the last of the line of Seth do not deserve to live any more that the corrupt lineage of Cain.
Except this was not set up in the film. There is no reason given for him to think this or say this, because no one in his family does anything wrong, at least not that we, the audience, saw on stage.
Indeed, the set up of the plot until this point all goes the other way: the theme and the plot is about a man saving mankind, like a Christ figure. If Noah was supposed to feel unworthy of the burden, and indeed unworthy of life itself, this fact should have been communicated to the audience in the first scene.
This was some dipstick modern writer's idea of edgy and daring, to have Noah be torn and tormented about saving his family. I have nothing against portraying this kind of 'survivor's guilt'. Indeed, had it been done correctly, it would have been a powerful story, instead of boring and dumb. The dumb part comes when Noah decides to kill his own grandchildren.
Honestly, when Noah first changes his mind and decides to kill himself and his family, I thought, surely, this is some numbheaded subplot which the numbhead writer threw in to generate false tension, which will be resolved in the next line of dialog, or the next scene, so we can get on with the film, because there is no possible tension here, because there is no motive for Noah to do such a cruel act, no hint that the Creator changed plans halfway through the 'spare the righteous' plan into the 'kill them all' plan, no nothing — but then the numbheadedness went on and on and on, and I slowly realized to my horror that the numbheadedness was the film.
The numbheaded idea was supposed to be the main plot line and character arc of the film: Noah goes from condemning all mankind, including himself, to death, in order to cleanse the earth for the sake of the dumb brute stinking animals and pooping birds and poisonous snakes, out of a sense of Old Testament justice, out of a sheer bloody minded obedience to an implacable God; and in the last scene, long after I was bored and offended to the point of wishing for a flood to wash me out of the theater, Noah stands with the knife poised above the eye of the babies, while the mother is screaming, "Do it quickly! Just do it!" and then, voila! The greatness of Noah is displayed when he decides to DISOBEY GOD! Hurrah!
What the Heck? What the Heck was that? Was that supposed to be the culmination of the sadistic insane Noah plotline which started when he stepped on some goat mud? Now we are back to the Noah the savior plotline?
Emma Watson then explains to Noah (since, this being a modern movie, the young women have to have all the insight and they explain things to the fathers and patriarchs): "The Creator did not give a rat's anus whether you killed my children, and all the human race with us, or relented and granted us all mercy. The Creator has no rules and no sense of right and wrong and no plan for the universe! The choice was YOURS. The Creator left the choice in YOUR hands, because it is all about YOU, baby! Free choice! Choose abortion! Choose choice! There is no right and wrong in life, only choosing stuff!"
Maybe she did not say those words precisely in that order, but that was the gist of it.
Naturally, I will say again, this is not a criticism of taste but of craftsmanship. If the resolution of the story was supposed to be that the Creator leaves each man with his own choice, then the theme has to have been about that issue from the get-go. Noah should have been as indecisive as Hamlet, and the plot is resolved when he acts decisively. He should have refused the burden and gift of the choice, and then grown into manhood when he accepts it.
More events happen, none of which has any point, fits into any plot, or makes any sense. The water goes down. We see Noah, the baby-murdering bastard, sitting by the beach drinking himself senseless, and doing nothing to kill his family as he thought he was supposed to do. They accept him back into the fold and he passes his blessing along to Shem, who goes on to father all the races of Asia.
Ham puts on a very modern looking backpack and sets off across the newly-washed world, to live as a hermit in an empty and die as a celibate. A thermonuclear rainbow explodes out of the sun. The End.
Oh, wait there was a fight scene between Tubalcain and Noah, but nothing came of it. Ham was supposed to help Tubalcain, but hesitates, and God slams the Ark into a rock, so that the knife slips out of Tubalcain's reach. I think Shem is coming to kill Noah too at this point. Everyone is killing everyone. And there was another sub-plot where Shem and Ila were going to float away on the dinghy, with just one month of supplies, rather than wait for the murder-captain of the Death Boat to eat the baby, but Noah blows up the dinghy with a magic fire rock that I forgot to mention.
Does this plot sound completely incoherent to you, like the writer did not know what he was doing and could not make up his mind what kind of a story he wanted to tell? That is because it is.
And I was bored, as should everyone in the audience have been. Since I was a human being, sitting in the audience, I knew that the human race did not get wiped out in the pre-Nimrod days, so the prospect of Noah's wrestling with his inner psychopath was not thrilling nor interesting to me. I was a little surprised to find out that, with Ham gone, Africa will never be colonized. Maybe this is a set up for a sequel. Or maybe he will mate with a she-wolf and father the race of lycanthropes. If so, I hope Kate Beckinsale is in the sequel, dressed in a skintight leather ninja suit. NOAH II: THE SQUALL! Just when you thought it was safe for the water to go back into the sea!
So much for the badness. The evil I can sum up quickly:
In this film the Creator floods the world because of the wickedness of men, but here the word "wickedness" means overpopulation, building cities, mining, using up natural resources, and eating meat. Yes, this is the Vegetarian version of Noah, the one who is not told it is lawful to eat meat after the Deluge, and one who does not sacrifice burnt offerings to God when he prays.
The only figure who quotes scripture accurately in the whole damnable film is Tubalcain, the villain. He says God placed man above the animals, and that we are to subdue them and have dominion over them. He says we are made in the image and likeness of God.
As best I recollect my Bible, he is correct.
The moment Tubalcain quotes scripture in the film was the moment when I realized that the film was unforgivable. Making Noah a would-be murderer was not merely an odd or eccentric directorial choice, not merely an act of artistic license gone haywire. It was evil.
That was when the scales fell from my eyes, and I realized that, yes, I had been sucker punched by Hollywood yet again. This was just one more LAST TEMPTATION OF CHRIST, except now aimed at Jews and Muslims also.
A similar moment happened to me when I was watching another utterly nihilist movie with another barren and corrupt heart, V FOR VENDETTA. At one point suddenly in the movie, I realized all my sympathies were for the alleged bad guy, and none for the alleged good guy. I wanted Tubalcain to win.
I wanted Tubalcain to eat the unicorn. (As a fan of MY LITTLE PONY, a man like me has to be driven to extremes to find himself cheering for that.)
Because a man's life, even the life of an evil man, is worth more than the life of an animal, even if it is the last of its kind. They are beasts.
I regret that I live in a world where I have to say such things to people who never heard them before.
Human life is sacred. Animal life is not. Plants are not. It is not a mortal sin to pluck a pretty flower. God gave them to you, all of them, all the Earth, to you. His generosity is without bound and without limit.
We humans have a right to life. Life is sacred. This earth is ours. We have a right to be here. The environmentalists who think man is a plague are wrong, and not just wrong, they are evil.
We cannot abuse the gift of Earth given us any more than we can abuse the gift of life given us, or abuse the gift of children given us. (Why the environmentalists acknowledge that we must not abuse nature, but scoff (or scream) at the idea that we must not commit suicide nor prenatal infanticide is a mystery.)
Because Tubalcain is right. He quoted scripture correctly.
On the other hand, when Noah finally lands the Ark, and the world is reborn, the covenant Noah announces is that man henceforth shall care for and protect the Earth and her creatures, and serve the Earth. There is no mention of subduing. No mention of being fruitful and multiplying. There is no burnt offering offered up to the Creator, no thanksgiving, no rejoicing that they were saved. No nothing.
Am I calling this movie evil because it struggles with difficult theological concepts, and has real human depth to it? No. I am calling it evil because it does not deal with any difficult theological concepts. It merely pretends to.
Noah does not struggle with theodicy. Noah was not wrestling with his conscience nor wondering why was allowed to live when the world died. The point is rather subtle, and I assume any Christian or Jew not profoundly offended by this vile film merely did not see the real point being made.
Noah is not wrestling with his conscience because he shows no reluctance whatsoever to murder the babies until the very last second, when he suddenly is too weak to carry out his appointed execution.
He does not pray to God and ask for this cup to pass from him. He does not even say such a thing aloud to himself, or to any confidante.
He is not actually wondering why God spared him and let the world die, because, if that had been the question driving the theme, the resolution of the theme would have been the answer to the question: in a normal story, Noah's obedience to God and his willingness to ask for forgiveness and walk upright would have been the reason he was spared. In this story, it would have been because he was a vegetarian who does not even pluck flowers or eat more grass than he needs. But neither answer was given. Ergo that was not the question.
He does not pray to God and ask why he alone was spared.
Nor is the justice of God being questioned. Noah does not wrongly think God wanted him to kill his children, nor did the angel Tzadkiel stay his hand. (Yes, I know the name of the angel who stops Abraham.)
Noah stays his hand out of weakness, out of a failure of nerve, because he cannot bring himself to obey God.
He then gets drunk and mopes, not because of the unimaginable loss of life he just survived, but instead because he had not the nerve enough to kill his own grandchildren, which he decided to do because he stepped in a puddle of goat blood.
There is not the slightest hint that God actually cared one way or the other about Noah's attempting dual-infanticide rampage, except of course that the whole first half of the film makes no sense if Noah were not supposed to be the savior of mankind.
Instead, the film puts in the mouth of Emma Watson is the moral of the story: we live in a universe with no right or wrong, and whatever choice you make is the right one, not because it is right, but because you chose it.
In other words, we got to hear the defining single Nihilist message of our age: nothing is worth doing. Life is not worth living.
Small wonder the Leftwing media poured love on this Arkload of stinky animal manure. To them, the question of Noah committing suicide and killing all the human race is an exciting and interesting one, a question that makes them pant with unholy lust, their eyes shining like the eyes of cats at night.
To the Nihilist, suicide is the goal. Mass suicide is better. Racial suicide is best of all.
To sick minds like that, and to them alone, was their any tension in the last half of the movie, because to people who live by the suicidal philosophy of Nihilism, suicide is a great temptation and a lure. To them, it is romantic and interesting.
The whole film is simply that same old Modern crud again, another preaching, morally screeching, morally empty message from the diseased minds of the diseased filth who think their filth makes them somehow superior to honest men.
Let me close on a final and personal note. I adopted a beautiful girl from Red China not long ago, and she, to this day, speaks English poorly, and so perhaps does not listen in Sunday School as well as she ought. I asked her if she knew the story of Noah and the Ark, and to my surprise she said she did not.
Aha! I thought I had a solution. I could take her to a cinematic version of the story, and she could learn the Bible story effortlessly, at the same time. Sort of like the movie '1776.' Even if it had a few Hollywoodish things thrown it, how bad could it be?
I had heard the disclaimer given with every ad, that the movie was true to the essence and the values of the faith of millions, and I believed them. It was either a bald faced lie, or they were talking about the faith called environmentalism.
It was not that I trusted them. I trusted I saw this movie on the sole and strong recommendation of Steven Greydanus, of Decent Film Guide, a reviewer whose tastes, in all other things, agree with mine, and with this sole exception, a man of good judgment.
While I am still a fan of Mr Greydanus, I fear I can never trust his judgment again with the simple childlike faith I once did. I am surprised, nay, I am astounded that he did not pan this movie with the multiple heapings of scorn and derision it deserved.
I trusted him to warn me so that I could stay away from Christ-hating filth like this film, and he slept at his post, and the enemy stole through. Perhaps he will change his judgment about this film in times to come.
So I trusted and took my daughter.
Did Mr Greydanus not see the tedious hour of the movie where Noah is portrayed, not as a foreshadow of Christ who saves the world, but as a bloodthirsty child-murdering maniac who wants to wipe out all mankind, that is, his own family?
My daughter now has had her first introduction to one of the central stories of Genesis, but instead of seeing Noah as a reflect image of Our Savior, she saw Noah as a child-murderer like Peter Lorrie's character in Fritz Lang's 'M'.
There is a scene where the Ark is first lifted up on the waters, and outside, we see thousands of screaming souls clinging to the peak of a drowning mountain as one tidal wave after another breaks over their heads, flinging scores from the slippery rock into the cold and bitter sea. Meanwhile, inside the Ark, sitting in the darkness, hollow eyed, Noah listens to the screaming, screaming. When his sons and daughter ask him, "Why can't we lower ropes? Why can't we save some of them?" He gives no answer.
After, my daughter asked me about that scene. My daughter said, "That man … " (meaning Noah) "… Why he not save them?"
So the film personally offended me, offended my family, and had its desired effect, which was to make the Bible harder to teach to my daughter. Bill Maher is laughing.
Instead of answering her question, I left the theater and immediately bought the largest hamburger I could afford, wolfing it down while quoting Tubalcain.
And I immediately showed her a version of the Noah story which was better directed, held more humor and action and true emotion, and but certainly took as much artistic license with the source material but did not scorn it.
You of course should know the version I mean.
POSTSCRIPT: Since the time I wrote this above article, I have since realized that I was so eager to be fair-minded in my review, that I gave compliments to certain images and ideas used which I should have recognized and  condemned.
I read a better article by Dr Brian Mattson, who explains some of the puzzles this writer either could not explain, or complimented as original. His theory, expertly argued, was that the encrustation of the Watchers, the luminous garb of Adam and Eve, and the use of the serpent skin as a relic, all come from the Second Century heresy called Gnosticism, the belief that the creator of the world is an evil Demiurge, the creator of matter, misery and death only. In Gnosticism, the Creator is a villain, and the serpent is an emissary of enlightenment. 
I am chagrined, because, unlike some churchgoers, I am familiar with these ancient heresies, and should have recognized the symbolism being used right away. 
So if you wish to read a more insightful commentary on this film than my own, read here: http://drbrianmattson.com/journal/2014/3/31/sympathy-for-the-devil