Progress!
O frabjous day! Callooh! Callay! 
I have just this moment sent back the final draft of One Bright Star to Guide Them to the editor. In the modern, fast paced electronic age, that means this novella (17000 words) will probably be published this month, maybe this week, instead of ten months from now.
Of everything I have written, it is my personal favorite. Now, that may or may not be a good sign. I seem to recall the favorite thing C.S.Lewis ever wrote was my least favorite of his works. Well, we shall see.
Here is the editor's book description. I hope he does not mind if I unveil it slightly early:
Once as children, long ago, Tommy Robertson and his three friends, Penny, Sally and Richard, passed through a secret gate in a ruined garden and found themselves in an elfin land, aiding a bold prince against the forces of the Winter King. Decades later, stout and settled in his ways, Tommy is long parted from his childhood friends, and their fantastic adventures but a half-buried memory.

But on the very eve of his promotion to London, a silver key and coal-black cat appear from the past, and Tommy hears himself summoned by the fair and ancient words to serve as champion against the unconquerable Knight of Ghosts and Shadows.

The terror and wonder of Faerie has broken into England, and his eyes alone can see it. To gather his companions and their relics is his quest, but time and weariness have changed them.

Youth is gone. Perhaps they are too foolish, too worldly-wise, too old. But dark things from young stories grow older with the years, and darker yet.

ONE BRIGHT STAR TO GUIDE THEM begins where other fairy tales end.
Brilliant and bittersweet, the novella hearkens back to the greatest and best-loved classics of childhood fantasy. John C. Wright's beautiful tale is not a subversion of these classics, but a loving and nostalgic homage to them, and reminds the reader that although "ever after" may not always be happy, the road of Life goes ever on and evil must be defeated anew by each and every generation.
N.B.: A previous version of One Bright Star to Guide Them appeared in F&SF in their 2009 April-May, but at the editor's suggestion, I made some changes.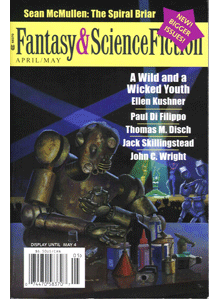 The daring idea of the the text being entirely rewritten to eliminate all male and female pronouns, and a scene where the heroine wishes her husband were a dinosaur and fantasizes about him in graphic sexual detail, as well making each character have a nonbinary sexual  orientation, like Leehallfae, but without any imagination or point, were all contemplated as possibilities, but in the end the editor forced me to write a story that had a beginning, middle and end, so I will not be able to win any prestigious awards, or get a government grant to not write a novel.
(However, in retaliation against my editor, I wrote a story without a beginning, middle and end — at least not in that order, and not with only one ending — and sold it to him as CITY BEYOND TIME. Hoo hah!! On sale now!)