Breitbart on Sad Puppies
Some much needed publicity.
http://www.breitbart.com/london/2015/02/05/the-hugo-wars-how-sci-fis-most-prestigious-awards-became-a-political-battleground/
Few walks of life are today immune to the spectre of political intolerance. At universities, speaker disinvitations and censorship campaigns are at an all-time high. In technology, there are purges of chief executives with the wrong political views and executives who make the wrong sort of joke. In the world of video games, petitions are launched against "offensive" titles, and progressive journalists wage smear campaigns against conservative developers.

It may not, therefore, surprise you to learn that similar occurrences are taking place in the science-fiction and fantasy (SFF) community, too. Previously a world renowned for the breadth of its perspectives, SFF increasingly bears the familiar hallmarks of an ideological battleground.

The story begins, as ever, with a small group of social justice-minded community elites who sought to establish themselves as the arbiters of social mores. This group would decide who deserved a presence in SFF and who deserved to be ostracised.

Their victims are littered across the SFF community. In 2013, the Bulletin of the Science Fiction Writers of America (SFWA) were targeted by a shirtstorm-like cyber-mob of digital puritans after one of their cover editions was deemed to be "too sexual." The controversy did not die down until two of its most respected writers, Mike Resnick and Barry Malzburg, were dismissed from the publication. This occurred despite a vigorous counter-campaign by liberal members of the sci-fi community, including twelve Nebula award winners and three former presidents of the SFWA. 

Unfortunately, the current crop of elite figures in the SFF community have become either apologists or out-and-out cheerleaders for intolerance and censorship. Redshirts author John Scalzi, a close friend of  anti-anonymity crusader Wil Wheaton – was head of the SFWA at the time of the controversy and quickly caved in to activist pressure. This was unsurprising, given that he shared many of their identitarian views.

But Scalzi is, if anything, merely the moderate ally of a far more radical group of community elites. He hasn't gone nearly as far as former SFWA Vice President Mary Kowal, who handles political disagreement by telling her opponents to "shut the fuck up" and quit the SFWA. Or former Hugo nominee Nora Jemisin, who says that political tolerance "disturbs" her. Or, indeed, the prolific fantasy author Jim C. Hines, who believes that people who satirize religion and political ideologies (a very particular religion, and a very particular ideology, of course) should be thrown out of mainstream SFF magazines.
Read the whole thing. http://www.breitbart.com/london/2015/02/05/the-hugo-wars-how-sci-fis-most-prestigious-awards-became-a-political-battleground/
For the record, this is the cover that was deemed too sexual: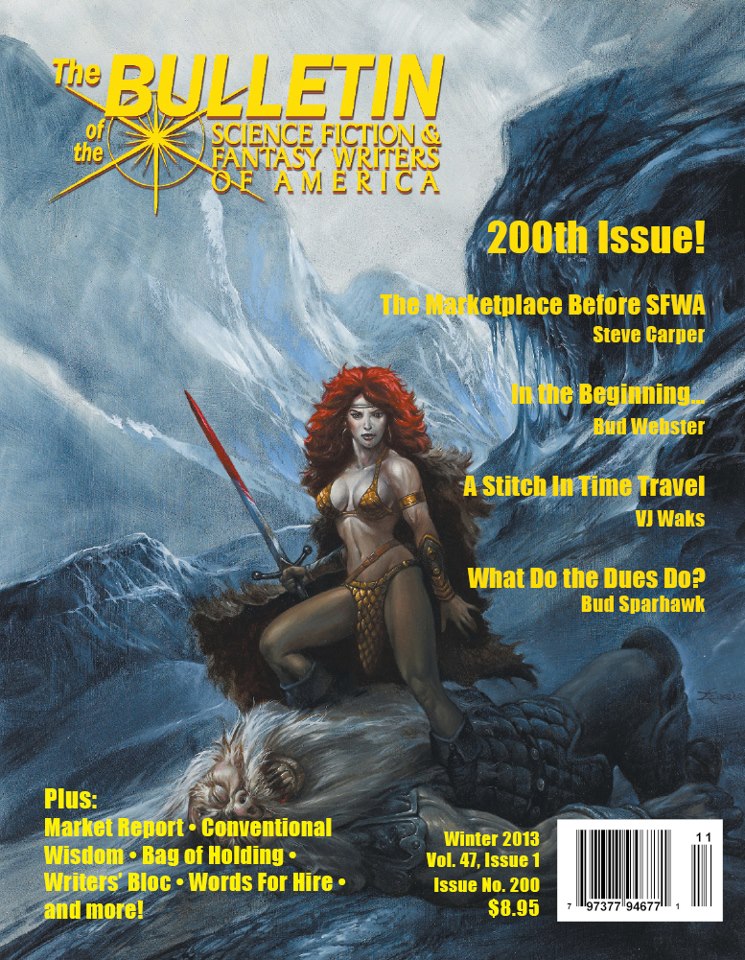 And, for the record this is what science fiction covers look like:
And this
And, for those who don't like cheesecake, this
And for those that do, there is maybe a zillion covers that look like this