Dragon Award Nominations Still Open!
What do I recommend for the Dragon Awards this year?
This year I have corrected COUNT TO INFINITY, have written, submitted, rewritten, corrected SWAN KNIGHT'S SON, FEAST OF THE ELFS, SWAN KNIGHT'S SWORD, as well as DAUGHTER OF DANGER, CITY OF CORPSES and four volumes of my pulp novel SUPERLUMINARY, written and submitted TITHE TO TARTARUS, and begun work on LOST ON THE LAST CONTINENT and on NOWHITHER: DROWNED WORLD.
That is a pretty hefty writing schedule for one year. Consequently, I have read exactly two and one half books for my own pleasure that are in the genre. So I have no idea what to recommend is deserving of a Dragon Award.
But, fortunately, I am a member of an evil conspiracy of people who want to restore science fiction awards to science fiction writers on the merit of their science fiction, not on the merit (or otherwise) of books pandering to various fringe psychopathies, sexual neuroses, hysteria, paranoiac delusion, and freakish sociopathies disguised as an abortive political ideology.
As the Grand Inquisitor of the Evil Legion of Evil Authors, I can merely pass along the suggestions of our infernal Darkest of Dark Lords, the Red Savage aka Darth Vox Day. The suggestions below are his, not mine, and I pass them along, hoping to garner votes for SWAN KNIGHT'S SON.
Best Science Fiction Novel
ALBION LOST by Richard Fox
Best Fantasy Novel (Including Paranormal)
A SEA OF SKULLS by Vox Day
Best Young Adult/Middle Grade Novel
SWAN KNIGHT'S SON by John C. Wright
Best Military Science Fiction or Fantasy Novel
STARSHIP LIBERATOR by B.V. Larson and David VanDyke
Best Alternate History Novel
NO GODS, ONLY DAIMONS by Kai Wai Cheah
Best Apocalyptic Novel
THE RETREAT #4: ALAMO by Craig diLouie, with Stephen Knight and Joe McKinney
Best Horror Novel
THE HIDDEN PEOPLE by Alison Littlewood
Best Science Fiction or Fantasy TV Series, TV or Internet
LUCKY MAN by Sky 1
Best Science Fiction or Fantasy Movie
LOGAN directed by James Mangold
Best Science Fiction or Fantasy PC / Console Game
TOTAL WAR: WARHAMMER by Sega
Best Science Fiction or Fantasy Mobile Game
LEGENDS OF CALLASIA by Boomzap Entertainment (the mobile release was Sep 2016)
Best Science Fiction or Fantasy Board Game
GLOOMHAVEN by Cephalofair Games
Best Science Fiction or Fantasy Miniatures / Collectible Card / Role-Playing Game
DARK SOULS: THE BOARD GAME by Steamforged Games
Best and Most Mephitically Foetid Hypocrite Corrupting the Prestige of a Once-Respected Science Fiction Award
Mike Glyer of File 770. Our Mr Glyer, who has won over 54 Hugo Awards in two categories since 1980, which is more than one per year. While pretending to be engaged in objective journalism, he organized the main platform for the anti-reformer reactionaries, despite that he himself was the main beneficiary of the corrupt and one-sided system. He won yet another award just this year.
I bear him personal enmity, because his first comment by which he first introduced himself to me, was out of the blue to call me a liar, much to the applause of his audience of fellow subterranean basement dwellers of File 770, pictured with him below.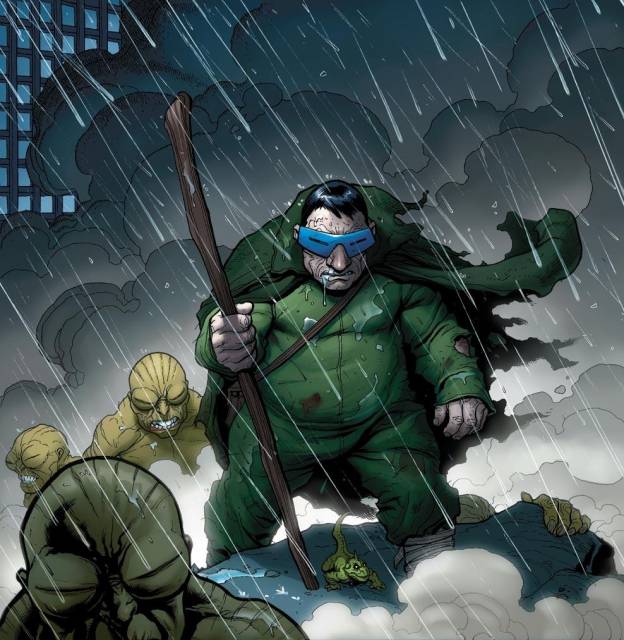 Correction: this picture was incorrectly reported to be Mr. Glyer and his subterranean basement dwellers of File 770. In fact, this is Harvey Rupert Elder, otherwise know as the Mole Man, archenemy of the Fantastic Four, with his subterranean moloid creatures. We regret the mistake.
Second Correction: I actually made that last entry up. Best Hypocrite is not a real category at the Dragon Awards. But it is true that very few people acted to bring the Hugo Awards more quickly and more entirely into disrepute than Mr. Glyer.
It is a reason to be enthused about the Dragon Awards, however.)
You can enter your nominations here, but do so once. Do not nominate anything in more than one category, or your nomination will be void.
Also, use a real email address when submitting your nomination because you will be sent an email requesting confirmation of your nominations, without which they will not be counted.