Today is my birthday, and I would like all well-wishers to give me the same birthday present, of going immediately to Amazon and buying a copy of my beautiful and talented wife's latest and greatest novel, THE RAVEN THE ELF AND RACHEL by L. Jagi Lamplighter (her maiden name).
This is the big day! This is the roll out! Buy multiple copies and drive up the sales figures!
If asked, I describe the book as 'Nancy Drew coming of age in the Roke of Sleepy Hollow hidden in the world from FRINGE hidden in the universe of Gaiman's Sandman hidden in the multiverse of Zelazny's Amber meets Aslan at Camp Halfblood: girl detective at magical boarding school uncovers figures from spooky New England folktales, secret weirdness and secret conspiracies, ghosts and elves and gods and greater powers beyond that, hellish and heavenly. And has a crush on a boy.'
Before coming to Roanoke Academy, Rachel Griffin had been an obedient girl—but it's hard to obey the rules when the world is in danger, and no one will listen.

Now, she's eavesdropping on Wisecraft Agents and breaking a lot of rules. Because if the adults will not believe her, then it is up to Rachel and her friends—crazy, orphan-boy Sigfried the Dragonslayer and Nastasia, the Princess of Magical Australia—to stop the insidious Mortimer Egg from destroying the world.

But first she must survive truth spells, fights with her brother, detention, Alchemy experiments, talking to elves, and conjuring class.

As if that were not bad enough, someone has turned the boy she likes into a sheep.

When someone tries to kill a fellow student, Rachel soon realizes that, in the same way her World of the Wise hides from mundane folk, there is another, more secret world hiding from everyone-which her perfect recall allows her to remember.  Rushing forward where others fear to tread, Rachel finds herself beset by wraiths, magical pranks, homework, a Raven said to bring the doom of worlds, love's first blush, and at least one fire-breathing teacher.

Trade Paper:
http://www.amazon.com/The-Raven-Rachel-Jagi-Lamplighter/dp/1937051994
Kindle:
http://www.amazon.com/Raven-Rachel-Unexpected-Enlightenment-Book-ebook/dp/B00OM73EXC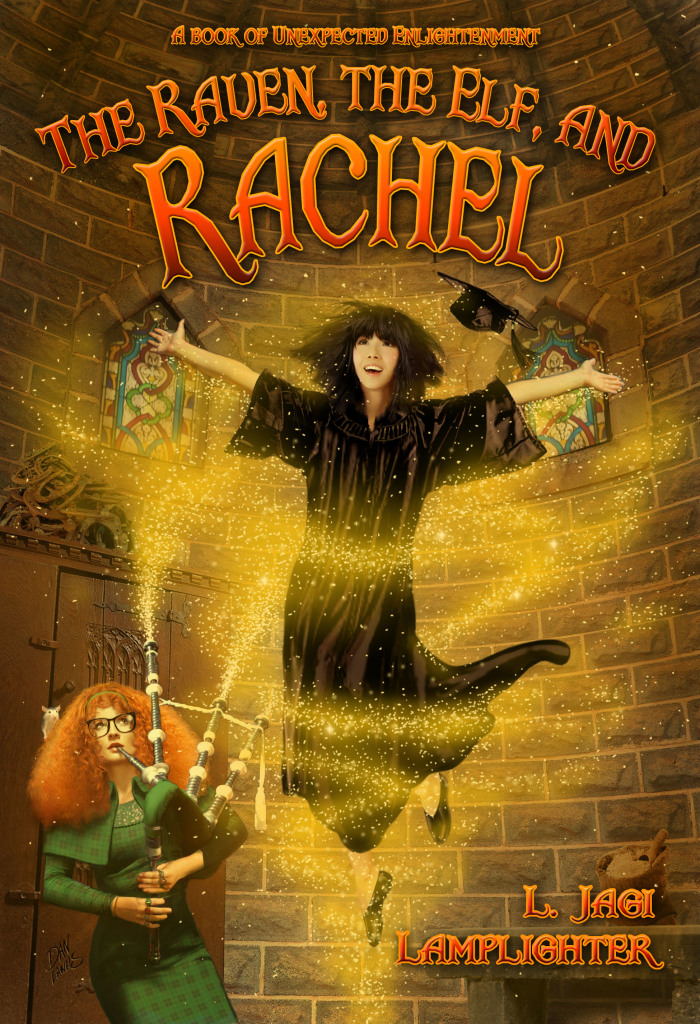 Read the remainder of this entry »